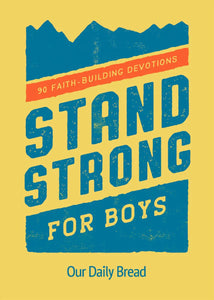 In the footsteps of Stand Strong, the wildly successful men's devotional, Stand Strong for Boys targets the needs of 8- to 12-year-olds: from having faith, to feeling brave, to growing wiser, to helping others.

Each day gives them the opportunity to read a passage of Scripture and a relevant devotional and learn a fun fact. At the end of each day's reading is a brief prayer that will show them how to turn what they're learning into a conversation with God. As they build the habits of daily reading and prayer, they'll grow stronger in their relationship with God and build a good reputation before others.
Orders will be dispatched after 15th October 2023. 
Product Details
Number of Pages - 192
Binding: Paperback
Colour pages